What's next in EURASHE?
You can subscribe in our newsletter to get info about upcoming events
Subscribe to our
newsletter
Upcoming events
Learn more about all the events, workshops and meetings happening this year:
8-9 Jun 2023
Bucharest, Romania
Face-to-Face
Amid this background of rapid economic and technological change, the 32nd EURASHE Annual Conference is an opportunity for inspiration and co-creation of human capabilities for the Fourth Industrial Revolution.
Presentation of ongoing projects in the field of Quality Assurance - QA LEAD, Profformance and QA-FIT + Findings ...
16 December 2022
Online
Online
The Skills Community of Practice will bring together HEIs and VET staff, associations and policymakers working on skills development from Education & Training sectors, and strengthen their voices towards further investment that is fit for purpose.
1 February 2023
Bilbao, Basque Country, Spain
Face-to-Face
Annual Conference
Our Annual Conferences significantly contribute to the professional development of our members and are therefore vitally important for European professional higher education (PHE). A EURASHE conference attracts a diversity of delegates – heads of institutions, higher education practitioners, policy-makers, academics and students – from the education community across Europe and beyond its borders. It is recognised as a communication platform for education experts and professionals and characterised by its innovative and refreshing approach. The following list of our conferences themes the broad scope and, at the same time, the targeted focus on issues that are relevant for PHE.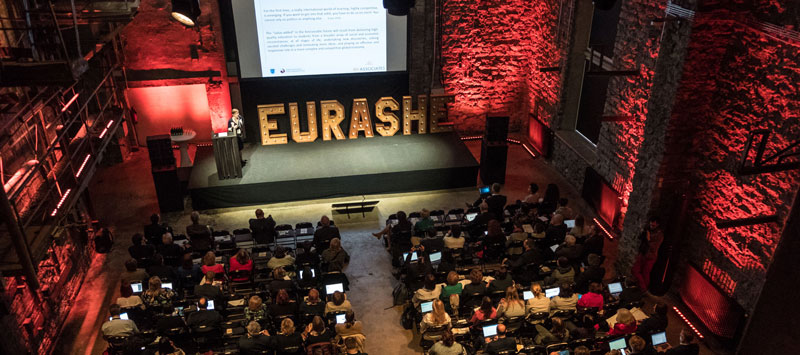 Are you interested in the next annual conference?
More information coming soon.
Those are the previous annual conferences. You can read more about them
The concept of sustainable development, which is fundamental for the European Union, is based on a large holistic approach to a whole range of interlinked global challenges. The Union, represented by the European Commission, has been instrumental in preparing Agenda 2030 for Sustainable Development, adopted by the United Nations in 2015.
The Conference is taking place the 23-24 of May 2022 in Brussels at the EPHEC campus, and those who can't physically attend the event will have the possibility to follow it online. EURASHE would like to have a dynamic conference, with participatory approaches, such as world cafe, breakout rooms and good practice examples.
Digitalisation, the race for innovation and the wider use of artificial intelligence are creating uncertainty and challenging our societies as never before. It is expected this will impact on all aspects of the organisation of society – both large communities and individuals, in urban and rural areas – as the buzz-word is smart specialisation of territories.
EURASHE research community of practice
The EURASHE Research Community of Practice is an informal peer learning format for liaison persons and leaders of research and development activities of various European universities of Applied Sciences. The mission and role of these institutions call for a strong focus on user-oriented research and innovation, performed jointly with the companies, public and non-governmental organisations.
Fulda
Face-to-Face
21 April 2022
Brussels
Face-to-Face
11 Nov 2022
Namur - Belgium
Face-to-Face
13 Oct 2022
Online meeting
Online
19 Sept 2022
Bilbao, Basque Country, Spain
Face-to-Face
1 February 2023
More events
Check for more activities, webinars, etc.
Policy Workshop | University-Business Cooperation
This Policy Workshop on University-Business cooperation is part of the results of the Spanning Boundaries project.
Talks on Quality Assurance
Presentation of ongoing projects in the field of Quality Assurance - QA LEAD, Profformance and QA-FIT + Findings and conclusions from the ENQA Working Group on Micro-credentials